BRANDING ELEMENTS FOR PRINT
---
UC MERCED LOGO FOR PRINT
The UC Merced logo and seal should be sized to usage size first in Adobe Illustrator and exported into the file format you need, such as JPG, PNG or TIFF pending application. This prevents pixelation and other distortion issues.
 
---
WORDMARK OF THE UNIVERSITY OF CALIFORNIA
Please contact marketing@ucmerced.edu for University of California Merced wordmark files and guidelines.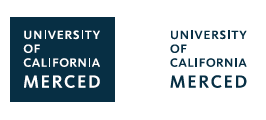 ---
OFFICIAL UC MERCED FONTS FOR MARKETING COLLATERAL
Primary Serif: Minion Pro
Secondary Serif: Bembo (donor signage), Centaur MT, Weiss
Primary Sans Serif: Kievit OFC Pro
Secondary Sans Serif: Avenir LT Std, Freight Sans Pro, Frutiger, Meta, Futura, Myriad Pro, ITC Officina Sans
Fonts are available for purchase online through various vendors such as Fonts.com.
---
THE 'DO NOT' LIST

Please do not stretch/distort the logo. Scale uniformly, the same percentage reduction or enlargement in both height and width. In most software, hold the shift key down to scale uniformly.
---
RETIRED LOGOS, PLEASE PHASE OUT
EFFECTIVE SEPT. 22, 2016, PLEASE DO NOT USE THESE RETIRED LOGOS ON ANY NEW MATERIALS PRODUCED.