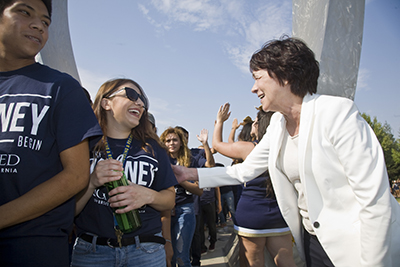 As UC Merced matures from a young, upstart campus to a seasoned established pillar of higher education in our region and the state, it is crucial that we develop and maintain a focused and consistent identity. The UC Merced story is compelling and inspiring, but that story loses its impact when it is told in too many different or competing ways.
You are all a part of telling UC Merced's story, and we trust each of you to do your part to establish our identity with the quality of your work, whatever it may be.
And in order to create that consistent identity for UC Merced, each of us will support the substance of our work by using the same logos and using the same terminology when referring to the university. We will use the same colors — whether for Web or print — particularly when those colors have been so meticulously chosen to represent the spirit of our beautiful surroundings.
This manual establishes the standards all faculty, staff, students, alumni and affiliated groups follow when creating communications on behalf of UC Merced. Your adherence to these standards is critical as we continue to build this campus and advance the UC Merced brand.
DOROTHY LELAND
UC Merced Chancellor
---
The Brand Standards Must be Followed
Print materials and logos developed for UC Merced departments and schools must be sent to Public Relations (marketing@ucmerced.edu) for review to ensure consistency with UC Merced brand strategy and brand elements.
Anything that carries the name of the university and uses the logo must be high quality with a competent graphic design, correct grammar and accurate spelling.
The university's logo and associated graphic trademarks or symbols must be utilized as stipulated in this guide on official documents, publications, presentations etc. The logo and seal may not be used on personal documents, projects, letters, resumes, etc.
The university's official logo and seal may not be altered in any way that distorts, curves, bends or otherwise changes their presentation.
Departments and schools are required to use the logo format presented in this guide.